LMAHH (Lower Merion Area Hebrew High) 8 - 12
LMAHH (LOWER MERION AREA HEBREW HIGH)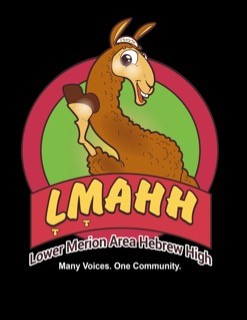 MANY VOICES. ONE COMMUNITY
The Lower Merion Area Hebrew High (LMAHH) was created to provide a weekly Jewish learning experience, bringing students from many synagogues (or no synagogue) together under one consolidated program. Joining together to create a positive social atmosphere for all students involved, we are also able to provide our students with a diversity of viewpoints from educators and rabbis across the Main Line and beyond. This program has been developed by the four Conservative synagogues in the area - Adath Israel, Congregation Beth Am Israel, Temple Beth Hillel-Beth El and Har Zion Temple - and is open to other interested congregations, as well as teens who are not currently members of a synagogue.
LMAHH provides a weekly Jewish learning experience for Jewish teenagers in the Lower Merion/Main Line area. It ensures a positive social atmosphere for all students and provides a diversity of viewpoints across the Main Line and beyond.
Click here to access the LMAHH website.
Click here to access the LMAHH Facebook page.
WHY LMAHH?
During the teen years, perhaps more intensely than any other time of life, friendship groups are the most important factor in determining an individual's participation in a particular activity. In the Lower Merion community, we have six synagogues that serve a diverse population who live in close proximity to one another. Each congregation has its own niche in the Jewish community and attracts members for a variety of reasons. The options of different synagogues benefit the Jewish community by providing a range of options for expressing Jewish religious life. However, for the teens of our congregations, who attend the same constellation of schools, participate in the same constellation of activities and spend their summers at the same constellation of summer camps, the delineation according to synagogues often creates an artificial barrier from the way they experience the rest of their lives.
With this idea in mind, the Lower Merion Area Hebrew High (LMAHH) was created. Its purpose is to provide a weekly Jewish learning experience that more closely resembles our teens' lives, by bringing all of our students together under one consolidated program. It also ensures a positive social atmosphere for all students involved and provides our students with a diversity of viewpoints from educators across the Main Line and beyond.
STRUCTURE OF PROGRAM
The school meets on Sundays and Tuesdays and operates on a trimester model. Teens can choose whether to attend on Sundays or Tuesdays (or, if desired, both). We know that our teens have lots of commitments and we want to provide them with maximum flexibility, while ensuring that we have enough students at all times to provide a stimulating social environment. ​​
The classes offered are generally different on Sundays and Tuesdays to allow those students who want to attend both to be able to do so. However, certain topics, such as Teacher Training, may happen on both days, allowing students who can only attend on one particular day to still have the opportunity to take this course.
Sunday Program Options
LMAHH offers options on Sunday mornings between 9:45 AM and 11:45 AM, allowing parents with children who attend religious school at any of the synagogues to avoid conflicts with pick-up and drop-off times of those religious schools. On Sunday mornings, students may choose between attending for two or three hours.
Tuesday Program Options
LMAHH will also offer options on Tuesday evenings from 6:30 - 8:30 PM.
Other Experiential Jewish Opportunities
In addition to the regular classes, plans are being developed for other opportunities for the teens to spend time with one another and take part in Jewish experiences. These plans include a community wide Shabbaton to take place in the coming year, periodic Shabbat dinner and services (led by and for teens) and Saturday evening social programs. These programs will meet at the various synagogues on a rotating basis.
Leadership and Location
During the 2020-2021 school year, LMAHH will be hosted by two congregations. The Sunday Program will meet at Har Zion Temple, and the Tuesday Program will meet at Temple Beth Hilel Beth El.
The Director of LMAHH is Norman Einhorn. He is the currently the Director of Member Engagement and Communications at Har Zion, and he oversees both the Sunday and Tuesday programs.
Education and Curriculum
LMAHH offers a diverse and engaging curriculum to our students. While exact details of the curriculum are being developed, the following core themes, topics and ideas will shape our offerings.
Hot Topics or Current Events- Students have the opportunity to explore current issues in relationship to Jewish values and text that have helped guide our people throughout the generations. Emphasis is on helping students to consider multiple points of view and to develop their own positions on the issues.

Israel - While many people in the Jewish community shy away from discussing Israel for fear of offending (or being offended by) someone, we believe that a proactive approach to teaching Israel through a pluralistic lens is the best way to deepen a connection between our teens and Israel. They learn from a variety of viewpoints, with an emphasis on presenting each position in a fair and balanced way. LMAHH focuses on teaching History, Culture, Politics, Religion, and Social Diversity in Israel today. We encourage students to take part in a trip to Israel in 10th grade, sponsored by the program. We also encourage older students to take part in other Israel-related conferences and programs sponsored by a variety of organizations.

Teacher Training program - We will offer an intensive teacher training for 11th & 12th graders, with juniors taking an intensive course, followed by class placement as assistant teachers in a religious school of the teen's home synagogue as a senior. In addition to this program, we offer a more basic level program for younger students.

Text Study - Students have opportunities to study relevant text from the Torah, Mishnah and Midrash (with both English and Hebrew/Aramaic) on a variety of topics or as an intensive study of a particular book or section.

Hebrew/Tefillah - Students have options to study conversational Hebrew, prayerbook Hebrew, and to develop skills such as leading an evening minyan, reading Torah, etc.

History - Students have options to study various Jewish time periods with an emphasis on Holocaust and the History of Zionism. We are also working to develop a course on the Timeline of Jewish History.

Social Justice - Students have an opportunity to learn about and develop projects to address particular issues in our society.

Community programs - We partner with other organizations in our community, such as Moving Traditions and Jewish Federation to offer opportunities for our teens to take part in programs such as the Jewish Teen Youth Philanthropy; Shevet Achim/Rosh Hodesh, etc

Tuition: Tuition is $995 for all students, regardless of how many days and hours they attend. The tuition for LMAHH is paid through your each student's home congregation.

Have More Questions? Please contact Norm Einhorn, the Director of LMAHH, at or 610-667-5000 x150.
Tue, December 5 2023
22 Kislev 5784
Today's Calendar
Morning Services

: 7:30am
Evening Services

: 6:00pm
---
Upcoming Programs & Events
---
This week's Torah portion is

Parshat Vayeshev
Candle Lighting
Havdalah
Motzei Shabbat, Dec 9, 5:18pm
Erev Chanukah
View Calendar
Tue, December 5 2023 22 Kislev 5784